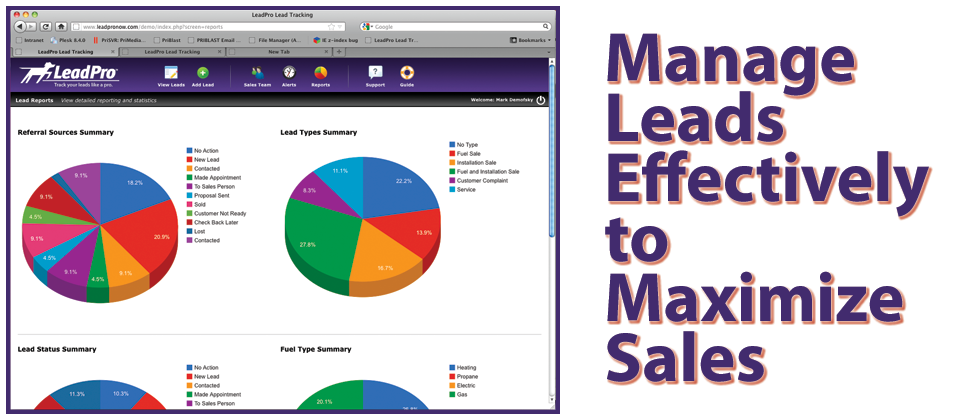 By: Richard Rutigliano, PriMedia Inc.
Selling home comfort products and services in a stagnant economic environment is a challenge, and companies need to approach the job with a sound strategy and a powerful set of tools.
Companies that thrive in challenging times like these are the ones that maintain a disciplined approach to sales. They are adept at reading the market, spotting opportunities, inspiring customers and prospects, and closing deals. These days, the best companies are also using sophisticated software like PriMedia's LeadPro to track their leads and add helpful automation to the sales process.
Selling is all about planning and execution. It starts at the top of the organization with a strong sense of direction. Leadership must develop a solid understanding of what is happening in the company and in the market and what opportunities exist. They must set targets and determine what kind of sales incentives might be needed for the company to achieve its goals.
Use a Lead Tracking System
Once you know what you want to sell, how much, and what incentives you want to offer, you can give the sales force their marching orders. To help them sell more effectively, arm them with a lead tracking system that creates a central repository for all sales lead information and helps them pursue leads with a structured and disciplined approach.
A great lead tracking system eliminates a lot of problems that can hold back a sales organization. First, it includes a shared database for storing all sales lead information. This means that the name and contact information for every prospect is in the company's hands as soon as the lead is identified.
By collecting all the information in one place, a lead tracking system eliminates some of the most basic problems that can undermine a sales campaign. For starters, all leads are recorded where the sales manager can find them, and salespeople will no longer store vital sales information out of the manager's reach.
This means no more names and numbers scribbled in notebooks or scrawled on sticky notes. By requiring salespeople to use the leads system for every warm lead, you can preserve all your leads and ensure that you don't miss any sales due to a salesperson's mistakes or neglect.
Getting sales leads into a company database is putting them where they belong. Leads are company property and should not be held captive by salespeople. Owners should never have to worry that their company's leads will be lost or inaccessible because a staff member is away or has left the company. With a solid lead tracking program, there are no barriers between the company and its leads.
Manage the Sales Process
A lead tracking system also enables strong, centralized management of the sales process that is difficult to achieve when leads are maintained and controlled by employees. When the sales manager can view complete information on every lead and sort results any way they like, they can truly monitor and manage the process.
For example, the manager can check the performance of any sales representative simply by reviewing all the leads that they are handling. It's easy to evaluate performance when you know how many leads an employee is handling, what actions they are taking every day and how many jobs they are winning.
Every lead entry in the tracking system should have a notes field where salespeople record their activities on that lead, and entries should be automatically stamped with date and time. This way, the salesperson records every step they take on each lead, and the tracking system provides a granular window into their activities. Evaluating sales performance is relatively simple when you can track every sales activity by account, salesperson, date, or lead status.
A tracking system is also great for collaboration. If you involve multiple employees on one sales lead, such as a CSR who originates the lead and a salesperson who follows up, the system can be programmed to change project status and send alerts. For example, if you assign a new lead to a salesperson, they can receive an automatic notification alert via e-mail.
Drive the Sales Process
Managers can also track leads by their project type, status, date of origin and more. If you want to view all leads that are pending approval, you simply search by status to see all the bids that are awaiting customer decisions.
Your lead tracking software should also force salespeople to schedule their next move on each lead. Whenever they record a note on a lead, the system should require them to set a notification date so the system can send an e-mail reminder prompting their next move. That way, nothing gets swept under the rug.
A good lead tracking system should also eliminate repeat data entry by interacting automatically with back-end software. When a salesperson is working with an existing customer on a new sale, customer information from the back end should flow into the lead system, and notes on sales activity should flow into the back end. That way, anyone interacting with the customer can see their history and be aware of all recent activity.
A custom lead tracking system is more effective than an off-the-shelf solution, because you can have it tailored to your particular needs and continue adding and removing fields as needed.
Once you have a lead tracking system in place, create rules and policies to ensure that employees use it the ways you want them to. Insist that all lead information be logged promptly and completely, and enforce the rules consistently. Soon you'll have a firm grasp on your company's sales efforts, and profitability will improve.
Richard Rutigliano is President of PriMedia, Inc., a full-service Advertising/Integrated Marketing Communications/New Media firm with offices in New York, Boston, and Philadelphia.